home
---
Michael Commons "Carriboo Claims"
Claims for sale: whole or part.
Location: Southeastern Idaho
Accessibility: 4-wheel drive, one hour from airport with jet service.
Size: 800 acres contiguous in 5 solely owned claims.
Current Mining Activity: exploratory and recreational.
Other features: roads already present, functioning ditch system for gravity-fed water supply to the claims area.
CONTACT
Michael Commons
E-mail: cariboo2002@msn.com
No, that's not a misspelling of "Carriboo", which was the official spelling in the late 1800's when this area experienced an early mining "boom". Although the boom towns are long gone, the area continues to see strong interest from recreational miners, and may again be commercially minable using modern industrial processes and heavy equipment.
Although located in a remote area of Southeastern Idaho, it is only an hour's drive from Jackson Hole, Wyoming, and an airport with jet service. A second airport is only two hours' drive to Idaho Falls.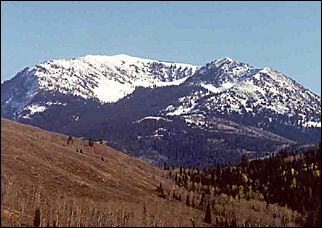 Caribou Mountain in Southeastern Idaho